you've arrived
Welcome to Scratch lab dj institute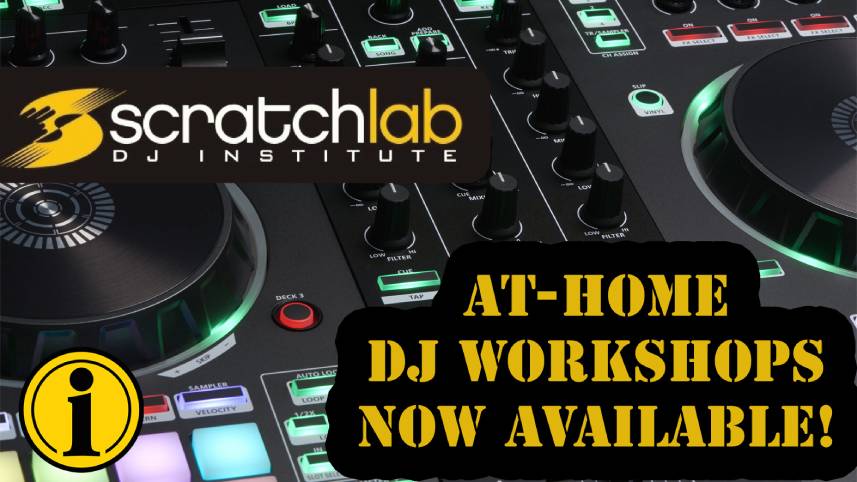 Welcome to SCRATCH LAB DJ INSTITUTE. Canada's first and premier facility for the training of DJs and other music related trades. Scratch Lab is a one of a kind facility that offers both group and individual learning opportunities in a 2500 square foot studio complex. With a combination of state of the art equipment, and world class instructors, Scratch Lab is a revolutionary concept in the world of music education.
Overview
Scratch Lab is located in Toronto, Ontario and was founded in June 2004 by three local entrepreneurs. The facility is built to accommodate sixteen students at one time in our group studio, with an additional two private studios for one-on-one training or practice. Classes are offered during the week in the afternoons and evenings. On weekends, daytime classes are also available. Classes are offered at all skill levels and in both professional and hobby related styles. Scratch Lab students range from young children to adults of all ages. All students work from a custom made curriculum that includes a workbook and Scratch Lab record. This curriculum was designed specifically as an educational tool for learning the skills necessary to DJ at various skill levels. Unlike many other instruments and music schools, DJ'ing and learning to DJ is not as accessible as today's generation would like. If you want to play a guitar, the means to do so are fairly easy and accessible. You can buy a guitar at a local music store in some cases for under $150.00. With training you can teach yourself how to play guitar. In the event you try it out and don't like it, you have spent little time and money in your venture. Now take DJ'ing. With equipment priced in the thousands and records an additional $10-20 per song, it's an expensive investment before you ever know if you like it or if you're good at it. Additionally, with so many brands and models of equipment, the research alone in determining what to buy is a venture in itself. Once you hurdle that obstacle and get home, you may not know how to first set-up and operate the equipment. In comes Scratch Lab DJ Institute... Are you ready to "Get Schooled?"
Our concept
Scratch Lab DJ Institute was designed to further gain recognition and musical acceptance of the instrument known as the turntable. At Scratch Lab, students learn the art and the many complexities of the turntable and how it can be used as their musical instrument. In the 21st century, turntables and the DJ have worked their way into mainstream music and are admired by many across the globe. With that in mind, Scratch Lab hopes to help the DJ community grow through education, innovation, and skill. Lets hit the decks...